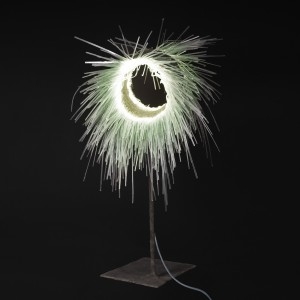 'Luciferase' collection
Nacho Carbonell
Metal, epoxy resin, sand, colored pigments, LEDs
102 x 175 x 95 cm (40.1 x 68.8 x 37.4 in)
Courtesy of: Ulysse Fréchelin
Galerie BSL presenting Nacho Carbonell
Established in Paris in 2010 by Béatrice Saint- Laurent, Galerie BSL commissions and presents both promising and established talent such as Djim Berger, Adrien De Melo, Benjamin Graindorge, Nacho carbonell and Mathieu Lehanneur.

In a unique corian®- based space designed by French architect Noé Duchaufour-Lawrance, it showcases one-offs and limited-edition pieces which explore the shifting of borders between contemporary art, design and architecture, thus participating in the modeling of new frontiers in design. Galerie BSL also encourages cross- pollination between periods and modes of expression.

It offers a selection of rare vintage lighting from the second part of the twentieth century by Gino Sarfatti, Gae Aulenti and Ettore Sottsass, as well as jewellery by designers like Taher chemirik, unique pieces and limited editions produced especially for the gallery. Beyond the qualities specific to each object, a dynamic universe takes shape, providing space for confrontation and conversation between the cutting edge design works and other rare, exclusive pieces.

At Design Miami/ Basel, Galerie BSL will present unique pieces commissioned specifically for the fair to Nacho carbonell, who was elected "Designer of the Future" at Design Miami/ Basel in June 2009. The "Luciferase" pieces are inspired by flora and fauna living in abysses, in the total obscurity found at great depths. In this collection, carbonell defies the limits of epoxy resin, a liquid material solidified by heat which lets through the light from the LEDs or bulbs placed inside. With these bioluminescent creatures, carbonell's art pushes established boundaries between art and design back even further, whilst prompting an emotional connection which appeals to everyone's imagination, sensibility and capacity to dream.