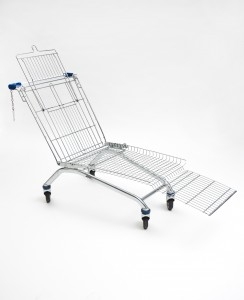 Argento Libre - Dario
Mike Bouchet
Zinc plated steel, outdoor cushions made of polyester foam with cotton polyblend fabric
60 × 50 × 205 cm
Courtesy of the artist and Nathalie Karg/cumulus Studios
Nathalie Karg/ Cumulus Studios presenting Mike Bouchet
Cumulus Studios was founded in 2008 by Nathalie Karg, a landscape designer. The studio gives established and emerging contemporary artists the opportunity to create functional objects for the outdoors.
Thus far, the collections have encompassed furniture, games, water and garden utility. The First collection was launched inMarch 2009. Collaborating artists included John Bock, Jim Drain, Liam Gillick, Mary Heilmann, charles Long, Jan Mancuska, Allan Mccollum, Rob Pruitt, Ugo Rondinone, Rirkrit Tiravanija, Rob Wynne and Aaron young. Fun and whimsical, the objects are created in numbered editions and vary in functionality. The Fall collection was presented in December 2009 in Miami.
Objects included a scarecrow by Georg Baselitz, a croquet set by Mark Dion, a garden gnome by Jim Drain, a hare swing by Adam McEwen, folding stools by Marcel Odenbach, an outdoor fireplace by Nathan Mabry, a birdhouse by Andrew Miller and a light sphere by Leo villareal. In 2010, a new table and seats by Joel Shapiro made their official debut. These will be part of the third collection that revolves around the theme MINIMAL, together with a Ping Pong table created by Tom Burr. The Summer 2011 collection will comprise, among others, of a Punch Out table by Piero Golia, a scarecrow by Ugo Rondinone, a pool float by Assume vivid Astro Focus and a Flip Flop table by Jim Lambie.
In addition to the collection, cumulus Studios has recently added new lines and a special commission section. The B-line consists of a series of affordable benches by several artists, such as Jim Drain, Rirkrit Tiravanija, Jason Meadows and Tom Burr. The swimming pool line is a collection of hand painted tiles by 6 invited artists such as cecily Brown and Mark Grotjahn, for the bottom of a swimming pool. The textile line will offer artist-designed fabrics, exclusively for cumulus Studios and fabricated for the outdoors. Lastly, the special commission section advises, curates and customizes any outdoor functional object by a contemporary artist.